Stewkley Wildlife Reserve
Burnet Saxifrage

Burnet Saxifrage - Pimpinella saxifraga
Time to see - July - August.
Height - 30cm -100cm
Although called a Burnet, this plant is not related to the Greater Burnet. It is not a Saxifrage either, but is a member of the Parsley family.
As it looks like many other umbelifores, it is best distinguished by its leaves, shown below.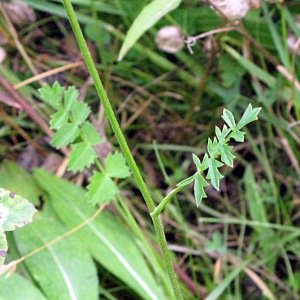 There are at present just a few of this plant in the field next to the Rec.