Stewkley Wildlife Reserve
Goat's-Beard

Goatsbeard - Tragopogon pratens
Flowering - . June - July
Height - 30 - 40cm
The seeds are dispersed by the wind, there are in fact more plants this year than in previous years, so presumably seeds are germinating successfully.
There are a few of these interesting plants in New Churchfurlong. The yellow flowers are only open in the morning, giving it's other name of 'Jack goto bed at noon'.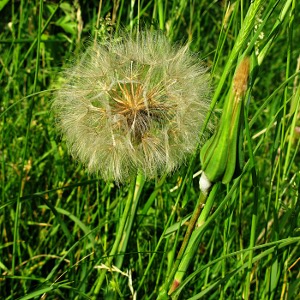 The photo above shows the flower closed up, and the seed head, which is rather like a dandelion 'clock' , and presumably resembling a Goats Beard, giving the plant one of its names.