Stewkley Wildlife Reserve
Wildlife Reserve News for March 2011

March 2011

22nd March,
It has been mostly dry for the last week or so, there is not much to be seen in the fields, but there is lots of activity in the pond. The plants are growing, and a couple of Marsh Marigolds have a flower.
Greater Water Boatmen
are to be seen coming to the surface for air, then diving out of sight if alarmed, or when they have breathed enough air for their next dive. On the surface, several
Pond Skaters
, are to be seen, moving over the surface looking for things to eat.
But new to the pond this year, for me anyway, are Whirligig beetles, and something I have never seen before, a spider walking on the water.
Sorry I dont have a photograph of the
Whirligig beetles
, as they scoot about on the surface of the water very rapidly, but managed to photographs the
Marsh Marigold
and the
spider.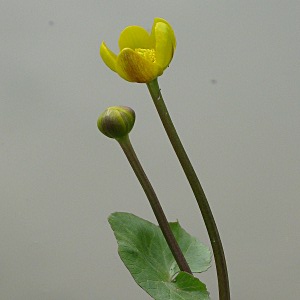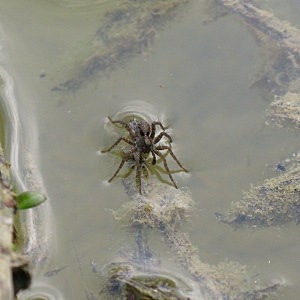 12th March,
A nice warm sunny day at last, and walking down the village a couple of
Brimstone
butterflies and a
white butterfly
were seen. Following the dry weather this week the reserve has dried out a little and is much less squelchy under foot.
Near the pond one or two
Lesser Celandines
have a appeared, and in the pond the first signs of life this year, when a
Greater Water Boatman
was seen and photographed in the pond.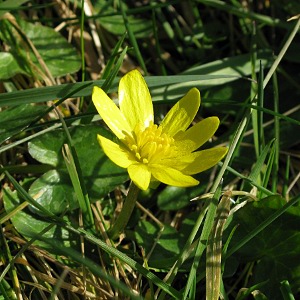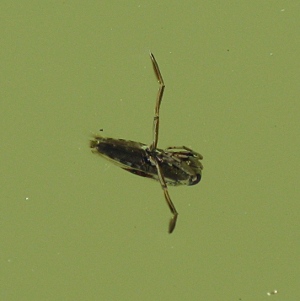 5th March
,
Its still cold, not so wet recently, which has allowed some of the water-logged areas to dry out, and there are signs that things are starting to grow, with buds showing on bushes, and a few white and blue
violets
to be seen in the copse.